Signs You May Have a Tooth Infection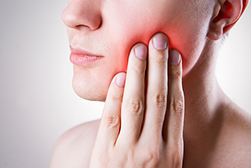 You may not know you have a dental infection until it becomes more advanced. If you have any signs of a dental infection, you need to call us and schedule an appointment right away.


Signs that You Have a Dental Infection

When it becomes progressed, dental infection is often defined by swelling of the jaw, inflammation, pain, and, in some cases, a fever. If an infection is present, you will also have an abscess – a pus-filled sac that needs to be drained. In some cases, the abscess will burst if you do not have the infection treated immediately. Once the sac bursts, you will notice a foul taste in your mouth. While this event may reduce the level of pain, you still need to have the infection treated with antibiotics and, in most cases, a root canal. In some cases, we may need to extract the tooth if it is severely damaged.


What Causes a Dental Infection?

A dental infection can happen for various reasons. In most cases, infection occurs because of poor dental care. To prevent an infection from developing, you should brush your teeth at least twice a day with fluoride-containing toothpaste and floss at least once daily. You also need to contact our office twice a year to have a dental cleaning and exam. When deep decay sets into a tooth or a root cavity becomes more extensive, it usually leads to an infection of a tooth's pulp. In this case, and as noted, we typically perform a root canal, removing the infected pulp and cleaning and sealing the tooth's root canal(s). The pulp is only needed in developing teeth. That is why we can remove it from deeply decayed or infected permanent teeth. A crown is usually added to protect the tooth from further decay or infection.

Do you believe you may have a dental infection? If so, contact our office immediately. Anyone who has signs of a dental infection should consider it an emergency. Because the infection can spread and lead to a life-threatening condition, such as sepsis, it should be treated without delay.