What Complications Can Arise When You Remove Wisdom Teeth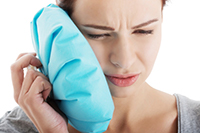 Third molars, also known as wisdom teeth, are situated at the rear part of the mouth and may present problems when they don't erupt correctly. These teeth could get stuck in gums, meaning they are impacted so they do not emerge or develop normally.

Wisdom teeth that have not come in properly can cause problems like pain, swelling of gums, and shifting or crookedness of other teeth. Sometimes, removing wisdom teeth is necessary to avert these problems. While wisdom teeth removal is fairly a common surgery and considered safe, there may be risks involved, just like any other surgery.


Dry Socket

Referred to as alveolar osteitis, dry socket comes with a lot of pain. If a blood clot that forms on the area of extraction becomes dislodged or displaced, it can cause excruciating pain. The clot forms on an empty socket over the bone tissue and nerves. Although treatable, dry sockets can create a lot of discomfort.


Excess Bleeding

It is normal to have bleeding after the extraction of a tooth. Even so, the bleeding can become abnormal if it persists for days or gets excessive in amount. Once a tooth is extracted, a dentist provides gauze to help limit and stop bleeding. You also need to consume a soft diet and avoid rinsing the mouth as the blood clot develops.


Infection

It is possible for an infection to arise after extraction. This happens if a patient does not adhere to the after-surgery care provided by the dentist. Food particles can enter the site, allowing bacteria to grow within the jaw in the area where the wisdom tooth was before. As a result, you could have a serious infection.

If you notice you are developing unusual side effects after having a wisdom tooth removed, come back to us immediately. Our oral surgeon will inspect the operation site to see what is going on and then offer treatment. Contact us today for wisdom teeth removal and after-care tips.