Tips for Brushing While Working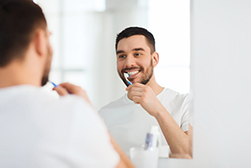 If you would like to keep up on your dental care routine at work, it may not, at times, be so easy. However, you can make it a practice to brush your teeth at work by following the steps below.


Carry a Travel Toothbrush and Travel Sized Toothpaste to Work

You can make it easier to stick to brushing your teeth at work if you carry a toothbrush and toothpaste that is easier to transport. By using a travel-sized toothbrush, you can get your toothbrush out and brush your teeth in a minimal amount of time. Never brush your teeth right after eating but brush them about 30 to 60 minutes after eating to prevent damage from erosion. When you brush your teeth immediately after a meal, you expose them to more acids that can harm the dental enamel.


Have Alternative Backups

If you cannot handily access a toothbrush or toothpaste, you can use tooth wipes to clean the teeth. Drinking water always helps, as well as chewing sugarless gum. Drinking water or chewing sugarless gum cleanses away food particles and plaque and keeps the mouth hydrated, eliminating problems with dry mouth. Dry mouth increases the susceptibility to the formation of cavities.


Find a Good Time to Brush

Some people do not like to enter a restroom and see someone brushing their teeth. Therefore, choose a time to brush when people are not rushing to use the facility, like during a break or during lunch. If you work in a small office, you can more easily brush than if you work in a large company. However, that does not mean it cannot be done. You can even brush without water, as doing so will increase the efficacy of brushing. A pea-sized amount of toothpaste is all that is needed to keep the teeth clean and the mouth and breath fresh.

It helps, as well, to keep your dental appointments. Contact us today to arrange an appointment for an exam and consultation.